Thermogard's New Pallet Return Scheme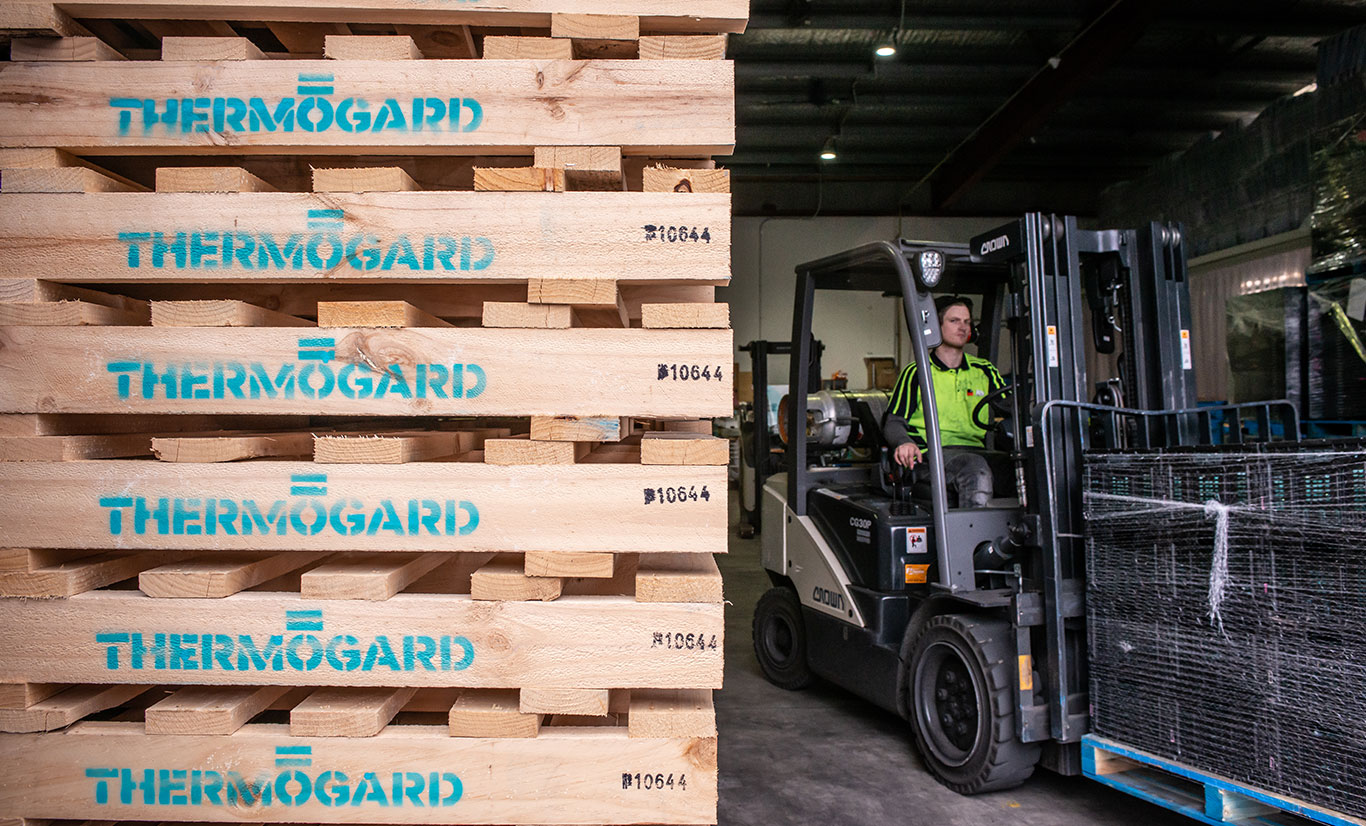 As we continue to see prices rising and further disruptions to our supply chain, Thermogard is working hard to keep prices consistent for you. We continue to see the cost of pallets increase, with timber shortages pushing prices up, primarily driven from the ripple effect of lockdowns and a disrupted supply-chain. This new scheme will allow consistency in pricing of Thermogard products, an unbroken supply chain due to a ready supply of pallets, and is a key step for Thermogard to achieve our goals of sustainable business practices, as pallets are returned to be reused time and time again.
When will this go into effect?
This new scheme will be live by Monday 6th June, 2022.
Who does this affect?
Currently, this will only affect our customers across Australia and New Zealand.
How will I know if my order will have a pallet charge?
A pallet charge will be applied to any order of 10 cartons or more.
What are the requirements of returning pallets?
For Thermogard to accept your returned pallets, you must:
Ensure the pallet is undamaged and in usable condition
Supply a copy of all packaging slips that the returned pallets relate to
How will the crediting process work?
When a pallet is used for delivery of Thermogard product, a flat rate of $20 per pallet will be charged. Once the pallet has been returned (undamaged) to Thermogard, your business account will be credited back this charged amount, within five days of the pallet being returned.
How do we organise pallet returns?
It will be the responsibility of the customer to arrange returns for the pallets, however, Thermogard can organise this on your behalf and the freight cost of this will be charged on/taken out of the credit amount. It is recommended you collect 10 pallets before arranging the return, this is the most efficient for freight costs. For some regions, where we manage our own deliveries you can give your pallets back to our driver on their next delivery free of charge.
If you have a rural address, please discuss this with your account manager.
Freight Companies in New Zealand
NZ Couriers – https://www.nzcouriers.co.nz/contact.html
NZ Post – https://www.nzpost.co.nz/contact-support
PBT – https://pbt.nz/contact/
Mainfreight – https://www.mainfreight.com/global/en-nz/company-directory
Freight Companies in Australia
Geelong:
Geelong Transport Experts – https://geelongtransportexperts.com.au/contact/
Direct Freight Express – https://www.directfreight.com.au/
Wollongong:
Direct Freight Express – https://www.directfreight.com.au/
Brisbane:
Capitol Transport – https://capitaltransport.com.au/contact/
SLR Transport – https://slrtrans.com/#contact-us
How much are these returns going to cost us?
The cost of the freight to return the pallet to your closest Thermogard manufacturing site (click here to see locations). As long as pallets are returned, undamaged and in usable condition, you will be credited back for the initial charge of the pallets.
Have any further questions?
Please do not hesitate to get in contact with our team or fill in a get in touch form.